When folks are visiting the beautiful Pacific Northwest, there are quite a few places that immediately come to mind. Bustling cities such as Seattle and Portland, national landmarks like the Hoh Rainforest, Mount Rainier, the Columbia Gorge, or the beautiful beaches along the Pacific Ocean, to name just a few. But if you ask us, one of the most enticing things about the PNW is its bounty of charming, one-of-a-kind small towns that aren't quite on the beaten path. Curious to learn more? Read on to discover our list of 8 ways to spend a fulfilling day (or a weekend) in Edison, Washington – home of Smith & Vallee Cabinet Makers!
Terramar Brewstillery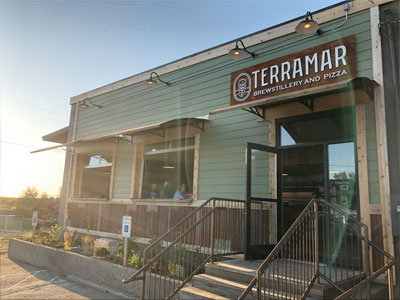 If there's one thing the Northwest loves… It's most likely the great outdoors. If there's another, though, it's probably craft beer and small-batch local spirits. Here at Smith & Vallee, we're fortunate enough to have an award-winning local brewery and distillery just steps away from our showroom and gallery! Terramar has been serving our community with their delicious drinks for the past few years, and we're honored to have them as our neighbors. Check out their website to see a list of upcoming events!
Smith & Vallee Art Gallery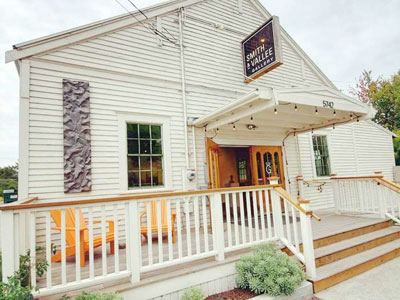 Custom cabinetry might be where we got our start, but we're drawn to artistry of all kinds – that's where our gallery comes in. Founded in 2006, Smith & Vallee gallery serves as an artistic hub for our community and its visitors. We present a broad spectrum of artwork, ranging from the contemporary representational to the ethereal and abstract. The gallery represents a balanced mix of artists, including Northwest Masters, mid-career, and emerging talent. It is a venue that encourages a continuing tradition of art, that at its core embodies a Northwest essence, but is relevant and vital within the context of the contemporary art world. You can find more info about our current exhibits – as well as art for sale – here.
Slough Foods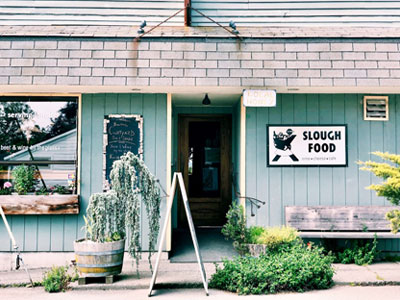 Not every small town is known for its artisanal restaurants, but the same simply can't be said for Edison. Take Slough Foods, for example. Inspired by the owner's time spent visiting the bountiful farmers markets of Rome, this cheese and wine-focused eatery is an Edison staple for very good reason. Come for the cheese plates, paninis, and the house made soups – and come back for their monthly paella party!
Hedgerow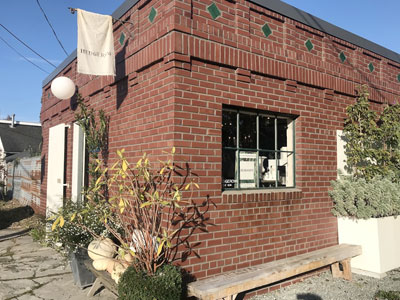 Between meals, strolling the quaint streets of Edison is likely to lead you to Hedgerow: a beautifully-curated boutique store with a wide variety of high-end vintage and modern goods alike for you to peruse. Not in town during their open hours? No problem. You can shop directly from their website any time, anywhere.
Tweets Cafe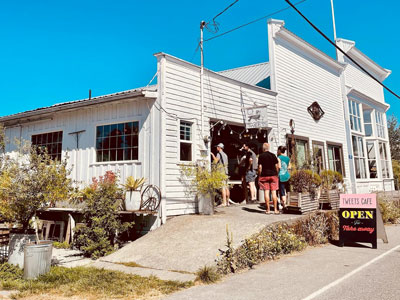 Looking for the next perfect place to grab a bite to eat and a delicious handcrafted coffee or tea? Tweets Cafe is your answer. Everything they serve is made using local produce and meats, and their seasonal menu means you're guaranteed to find something fresh and delicious on each and every visit. They're open Saturday and Sunday only, with an updated weekly menu posted on their Facebook page – this is a stop you certainly won't want to miss.
Mariposa Taqueria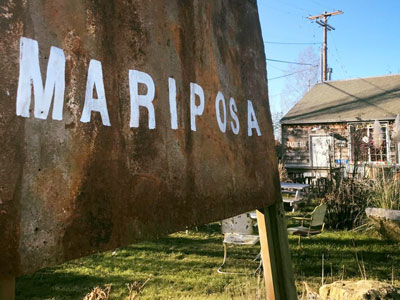 Authentic Mexican food might not be something you'd expect to find in a little town like ours: enter Mariposa Taqueria to absolutely surpass your expectations. Perfect for warming up on a chilly day, their house made soups, tacos, and more are sure to hit the spot. Open for both breakfast and lunch, Mariposa has something for everyone. Be sure to check out their Facebook page for daily specials and menu updates!
Breadfarm Bakery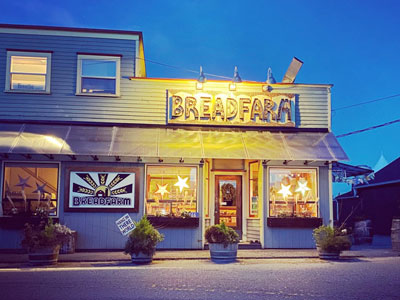 There's not much that warms the heart and soul the same way as baked goods – and when they're homemade, it's all the better. Breadfarm supplies their breads to several local restaurants, and they serve their delicious bread and pastries from a walk-up window in central Edison. Order online or give them a call ahead of time if you're looking to secure something in particular, as they've been known to sell out fairly quickly! You can find a full list of their daily offerings on their website.
Outdoor Activities
It simply wouldn't be a trip to the PNW without accounting for plenty of time spent outside. Whether you're here during the drizzly winter months or the long-lasting, sunny days of summer, there's plenty to see. Skagit Valley, where Edison is located, is a great destination for bird watching – especially if you visit as the snow geese are migrating southward during the fall. More of a hiker than a birder? We've got you covered. There are plenty of beautiful trails in the nearby Chuckanut mountains that offer stunning views of the Samish Bay and out to the San Juan islands! And if none of that particularly strikes your fancy, simply strolling the streets of our small town is sure to bring you a slice of the PNW outdoors.
Make it a Weekend – Stay in our Smith & Vallee Guest House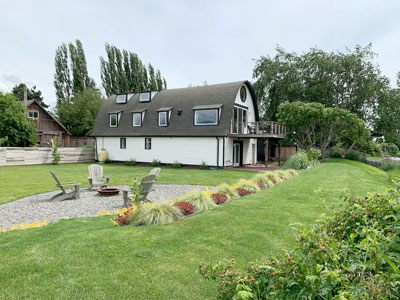 If a day trip just doesn't give you enough time to enjoy our sweet village of Edison, book a getaway at one of our four waterfront vacation rentals located within walking distance of everything Edison has to offer. Enjoy a private entrance and deck with sweeping views of the San Juan Islands, a beautifully landscaped yard with fire pit, and direct slough access for your canoe or kayak. Original artworks from our gallery's artists hang on the walls. All cabinetry and woodwork was custom designed and built in our cabinet shop. Add modern furnishings and lighting, fully-equipped kitchens ready for entertaining, an abundance of west-facing windows, and you've found yourself an unforgettable vacation rental with breathtaking views. A perfect spot for cyclists, birders, creative retreaters, romantic get-aways, foodies, and road-trippers. Find us on Airbnb or smithandvalleeguesthouse.com to book your immersive Smith & Vallee experience.
In Conclusion
When you're visiting a new-to-you town (or planning your next staycation in a nearby area), it's never a bad idea to have an extensive list of options. It's our hope that this blog gives you plenty of reasons to come and visit us and our neighbors in the beautiful town of Edison!